Vancouver, B.C., January 14, 2015. Alto Ventures Ltd. (ATV: TSX-V) is pleased to update shareholders with a year-end review of the Company's activities in 2014 and provide exploration plans for 2015. Alto holds a portfolio of diamond exploration properties in the Saskatchewan Craton and highly prospective gold properties in greenstone belts in Quebec, Ontario and Manitoba.
Highlights for 2014
Diversified into diamond exploration in January with the acquisition of strategic properties near North Arrow Minerals Inc. Pikoo diamond discovery in north-central Saskatchewan; Completed a 325 sample till program in September; Commenced a high resolution airborne magnetometer survey in December
Maintained the Company's key gold properties in good standing
Sold its 0.5% NSR Royalty on the Windfall Lake and Alcane properties in northern Quebec for proceeds of $1 million
Finalized debt settlement with Canoe Mining Ventures Corp on Alto's former Coldstream Property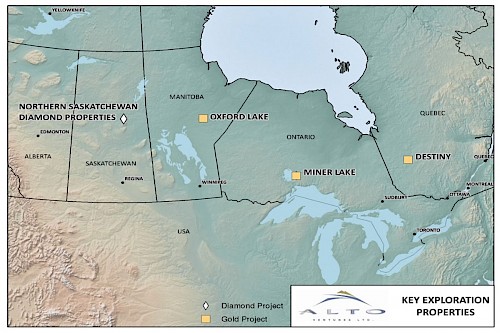 North Saskatchewan Diamond Properties
Alto diversified into diamond exploration through staking of land in the Saskatchewan Craton in north-central Saskatchewan following the announcement of new discoveries of diamond bearing kimberlites in the area. In January, 2014 the Company increased its total land holdings to approximately 89,500 hectares through staking and purchase/option agreements. Included in the optioned land package are the GEFA claims in which Alto can earn a 60% interest. The GEFA claims are strategically located adjoining the Pikoo property owned by North Arrow Minerals Inc. (80%) and Stornoway Diamond Corp (20%). In November, 2103, North Arrow announced the discovery of diamond bearing kimberlites in drill cores and triggered an extensive staking rush over large sections of the Saskatchewan Craton.
Alto initiated exploration work on its properties near the Pikoo discovery and in September, 2014 collected 325 till samples from the GEFA and Fisher diamond claims. All of the samples are being processed for Kimberlite Indicator Minerals ("KIM") at the Saskatchewan Research Council laboratory in Saskatoon. Results will be released after the samples are processed and selected mineral grains are analyzed using Electron Probe Microanlysis to determine if their geochemical signatures indicate kimberlite origins for the grains. In December, 2014, Alto commenced a high-resolution airborne magnetometer survey consisting of approximately 3,370 km over the GEFA claims at a 50 metre line spacing. The survey is currently in progress and results will be discussed after the survey is completed and data has been processed. Complete results are expected in March, 2015.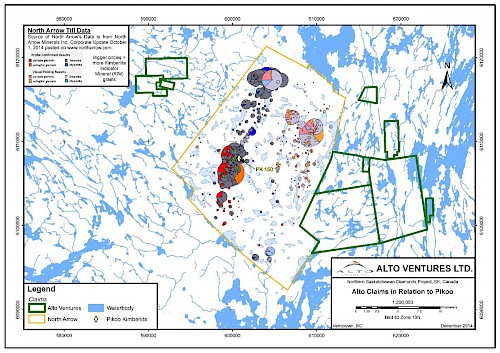 Maintenance of the Company's Key Gold Properties
Alto has managed during this period of weak market conditions to apply sufficient work assessment credits to maintain its key gold exploration properties in good standing through 2014 and into 2015.
The Destiny project in Quebec hosts Indicated Mineral Resources of 10.8 million tonnes at an average grade of 1.05 g/t gold using 0.5 g/t gold cut-off grade. In addition, at the same gold cut-off grade, the Inferred Mineral Resources total approximately 8.3 million tonnes at an average grade of 0.92 g/t gold. The estimated contained ounces in the Indicated category are 364,000 plus 247,000 ounces in the Inferred classification. The gold mineralization is open to depth and along strike. The Resource Estimates were calculated consistent with guidelines set out in National Instrument 43-101 and filed on Sedar on March 7, 2011. Mineral Resources are not Mineral Reserves and by definition do not demonstrate economic viability.
The Oxford Lake property in Manitoba hosts the Rusty Gold Deposit, with an Historical Resource of 800,000 tonnes averaging 6 g/t gold and containing approximately 154,000 ounces of gold, as well as several other gold occurrences. In 2012 the Company drilled hole RUS12-03 in the Blue Jay area approximately two kilometres on trend and to the east of the Rusty Deposit. RUS12-03 intersected two zones of high-grade gold mineralization: Zone One - 2.7 m averaging 6.7 g/t gold including 22.5 g/t gold over 0.5 m and Zone Two - 6.8 m averaging 5.7 g/t gold including 11.7 g/t gold over 1.6 m and 16.5 g/t gold over 1.0 m. Gold mineralization at both the Rusty Gold Deposit and the Blue Jay Zone is open along strike and to depth. The Historical Resource was estimated in 1990 and a Qualified Person (QP), as defined by NI43-101, has not done sufficient work to classify this historical estimate as current mineral resources. Alto is not treating the historical estimate as current mineral resources, as defined by NI43-101, and thus the historical estimate should not be relied upon.
Sale of 0.5% NSR Royalty
In March, 2014 Alto sold its underlying 0.5% NSR Royalty on the Windfall and Alcane properties to Virginia Mines Inc. in consideration of $750,000 payable by the issuance of 57,692 common shares in the capital of Virginia at a price of $13.00 per share. In connection with this transaction, Virginia also purchased 1,666,667 shares of Alto at a price of $0.15 per share in a $250,000 private placement. The proceeds from this transaction were used to advance diamond exploration on Alto's properties in the Pikoo district of north-central Saskatchewan and for general working capital.
Finalized Debt Settlement
In October, 2014 Alto finalized an agreement with Canoe Mining Ventures Corp to settle an outstanding debt of $768,942 owed to Alto in connection with the sale in 2012 of its 40% interest in the Coldstream Project in Ontario. Pursuant to the terms of the agreement, Alto received 1.25 million shares of Canoe priced at $0.20 per share with a deemed value of $250,000 as well as $50,000 in cash. Additional cash payments totalling $200,000 are payable to Alto in three instalments between December 31, 2014 and June 30, 2015. Also as part of the debt settlement agreement, Canoe has granted to Alto Net Smelter Returns royalties ranging from 0.5% to 1.5% on certain portions of the Coldstream Property.
Corporate
In March, 2014, Alto enhanced its diamond exploration expertise with Mr. Martin Doyle, P.Geo., MBA., joining Alto's Board of Directors. Mr. Doyle is a seasoned diamond and gold exploration executive with over 35 years international and Canadian experience in the De Beers and Anglo American organizations. Prior to his role as Senior Vice President, Exploration for De Beers Canada Inc., Mr. Doyle explored for diamonds in Brazil, Namibia, South Africa, and Botswana. Currently Mr. Doyle is Regional General Manager, North America for Snowden Mining Consultants. He also serves as Director of Paragon Diamonds and Debut Diamonds
Plans for 2015
Alto plans to continue diamond exploration on its Northern Saskatchewan diamond properties. Alto expects to have all of the results and data in hand by the end of March. Further till sampling is expected to be required to better define KIM trains. If the KIM results and airborne magnetic results are positive, a drill program will follow.
This news release has been reviewed and approved for technical content by Mike Koziol, P. Geo, a qualified person under the provisions of National Instrument 43-101.
About Alto Ventures Ltd
Alto Ventures Ltd. is an exploration and development company with a portfolio of highly prospective Canadian diamond, gold and base metals properties. Alto's diamond land holdings total approximately 89,536 hectares in central eastern Saskatchewan near the recent discovery of diamonds on the Pikoo Project. The Company is active in the Abitibi greenstone belt in Quebec on the Destiny gold property and is exploring in the Beardmore-Geraldton gold belt in Ontario. In Manitoba, the Company is focused on the gold and base metals potential of the highly prospective but relatively under-explored Oxford Lake property.
For more details regarding the Company's projects, please visit our website at www.altoventures.com.
ON BEHALF OF THE BOARD,
Richard J. Mazur, P. Geo.,
CEO
Neither the TSX Venture Exchange nor its Regulation Services Provider (as that term is defined in the policies of the TSX Venture Exchange) accepts responsibility for the adequacy or accuracy of this release.
For further information contact:
Mike Koziol, President and Director
ALTO VENTURES LTD.
Unit 7 - 1351C Kelly Lake Rd
Sudbury, ON., P3E 5P5
Tel: 705-522-6372
Email: koziol@altoventures.com
Rick Mazur, CEO and Director
ALTO VENTURES LTD.
Suite 615-800 W. Pender Street
Vancouver, BC, V6C 2V6
Tel: 604-689-2599
Email: mazur@altoventures.com