Vancouver, B.C., December 17, 2014. Alto Ventures Ltd. (ATV: TSX-V) is pleased to announce the commencement of a high-resolution airborne magnetometer survey to be flown over its GEFA claims located adjacent to the North Arrow Minerals Pikoo diamond discovery in north central Saskatchewan (see Figure 1). The survey will be flown at a 50m line spacing consisting of 3,370 line kilometers with completion in the next four to six weeks.

In September, 2014, Alto collected 325 till samples from the GEFA and Fisher diamond claims. All of the samples are being processed at the Saskatchewan Research Council in Saskatoon. Approximately three quarters of the samples have been visually processed for Kimberlite Indicator Minerals ("KIM"s) and once all samples are processed, selected grains will be forwarded for microprobe analyses. Complete results are expected in February, 2015.
Alto plans to use the aeromagnetic data in combination with the KIM results to design a 2015 sampling program to better define KIM trains and select drill targets.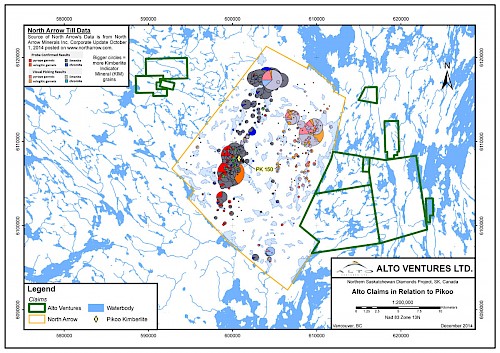 Alto Ventures is earning a 60% interest in the GEFA claims by making staged payments to the vendors totaling $60,000 over two years and completing $750,000 in exploration work on the property over 30 months (see Alto Ventures news release dated January 27, 2014). Alto's first year work commitments have been completed on the GEFA option. Alto is earning a 100% interest in the Fisher claims by issuing to the vendor 25,000 shares of Alto and making cash payments totaling $18,000 over two years (see Alto Ventures news release dated January 22, 2014).
This news release has been reviewed and approved for technical content by Mike Koziol, P. Geo, a qualified person under the provisions of National Instrument 43-101.
About Alto Ventures Ltd
Alto Ventures Ltd. is an exploration and development company with a portfolio of highly prospective Canadian diamond, gold and base metals properties. Alto's diamond land holdings total approximately 89,536 hectares in central eastern Saskatchewan near the recent discovery of diamonds on the Pikoo Project. The Company is active in the Abitibi greenstone belt in Quebec on the Destiny gold property and is exploring in the Beardmore-Geraldton gold belt in Ontario. In Manitoba, the Company is focused on the gold and base metals potential of the highly prospective but relatively under-explored Oxford Lake property.
For more details regarding the Company's projects, please visit our website at www.altoventures.com.
ON BEHALF OF THE BOARD,
Richard J. Mazur, P. Geo.,
CEO
Neither the TSX Venture Exchange nor its Regulation Services Provider (as that term is defined in the policies of the TSX Venture Exchange) accepts responsibility for the adequacy or accuracy of this release.
For further information contact:
Mike Koziol, President and Director
ALTO VENTURES LTD.
Unit 7 - 1351C Kelly Lake Rd
Sudbury, ON., P3E 5P5
Tel: 705-522-6372
Email: koziol@altoventures.com
Rick Mazur, CEO and Director
ALTO VENTURES LTD.
Suite 615-800 W. Pender Street
Vancouver, BC, V6C 2V6
Tel: 604-689-2599
Email: mazur@altoventures.com