Vancouver, B.C., July 11, 2018. Alto Ventures Ltd. (ATV: TSX-V) is pleased to announce that summer exploration worked has started on the Miner Lake and Brookbank East properties in the Beardmore-Geraldton gold camp in Ontario. Surface exploration at Miner Lake includes geological mapping, detailed structural mapping, prospecting, sampling, and ground VLF surveying in preparation for diamond drilling. A diamond drilling program is anticipated to start in September, 2018.
Miner Lake
Detailed structural mapping of the main mineralized trend and ground VLF consisting of five lines, totaling 10 km of surveying have already been completed. Alto's previous work at Miner Lake included nine diamond drill holes in 2011; gold was intersected in each of the holes with one hole cutting a wide zone of 39.2 m averaging 0.6 g/t gold including 4.24 g/t gold over 1.5 m (see Alto news release dated October 18, 2011). Assay results from surface saw cut channel samples include 6.79 g/t gold across 1.0 m; 4.14 g/t gold across 1.4 m; and 1.78 g/t gold and 0.11% copper across 19 m. This last interval contains two higher grade sections of 3.36 g/t gold and 0.24% copper across 5.0 m and another section of 6.29 g/t gold and 0.08% copper across 2.0 m.
Brookbank East
The property was staked by Alto in April, 2018. Surface exploration work at the Brookbank East property will consist initially of geological mapping and prospecting. Records in the government assessment files from the surface geological work and diamond drilling indicate that favourable geology and alteration are similar to the Brookbank Gold Deposit, a 50/50 joint venture between Centerra Gold and Premier Gold.
The Brookbank Deposit is reported to include open-pit Measured and Indicated Resources of 2.64 million tonnes averaging 2.02 g/t Au and containing 172,000 ounces. Underground resources are reported to include Measured and Indicated Resources of 1.86 million tonnes averaging 7.21 g/t Au and containing 430,000 ounces of gold (www.premiergoldmines.com).
Results from some of the historical work on Alto's Brookbank East property include 10 g/t Au over 0.91 m intersected in a 1992 drill hole at the southeast end of the property. Grab samples up to 7.68 g/t Au were reported in 1988 from altered quartz veins in historical trenches near the centre of the property.
Alto's President, Mike Koziol, P. Geo. is a qualified person under the provisions of National Instrument 43-101 and approves the technical data and conclusions in this news release.
About Alto Ventures Ltd
Alto Ventures Ltd. is an exploration and development company with a portfolio of highly prospective Canadian gold properties. The Company is active in the Abitibi greenstone belt in Quebec on the Destiny gold property and is exploring in the Beardmore-Geraldton gold belt in Ontario. For more details regarding the Company's projects, please visit our website at www.altoventures.com.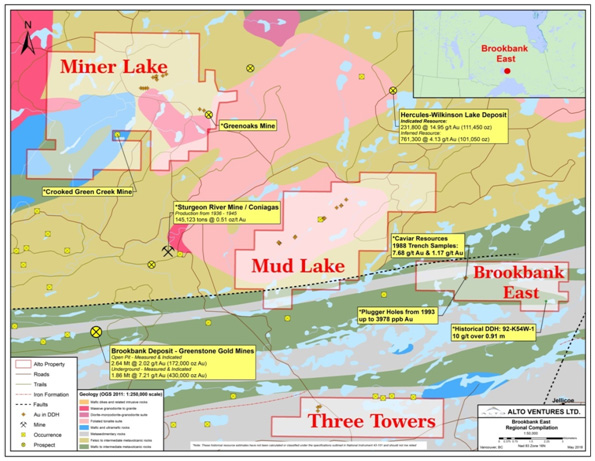 Figure 1 Location of Alto Ventures gold properties in the Beardmore-Geraldton gold belt
ON BEHALF OF THE BOARD,
Richard J. Mazur, P. Geo.,
CEO
Neither the TSX Venture Exchange nor its Regulation Services Provider (as that term is defined in the policies of the TSX Venture Exchange) accepts responsibility for the adequacy or accuracy of this release.
For further information contact:
Mike Koziol,
President and Director
ALTO VENTURES LTD.
Unit 7 -- 1351C Kelly Lake Rd
Sudbury, ON., P3E 5P5
Tel: 705-522-6372
Email: koziol@altoventures.com
Rick Mazur,
CEO and Director
ALTO VENTURES LTD.
Suite 615-800 W. Pender Street
Vancouver, BC, V6C 2V6
Tel: 604-689-2599
Email: mazur@altoventures.com