Vancouver, B.C., February 23, 2015. Alto Ventures Ltd. (ATV: TSX-V) is pleased to announce the definition of at least three probable kimberlite indicator mineral (KIM) dispersion trains on the GEFA Diamond Property ("GEFA"), northern Saskatchewan (see Figure 1). GEFA is located adjacent to North Arrow Minerals Inc.'s prolific Pikoo diamond discovery in Northern Saskatchewan which has reported a sample grade of 1.34 carats per tonne of +0.85 mm diamonds from 209.7 kgs of drill core (see North Arrow's news release dated November 5, 2013). The Pikoo kimberlites occur near surface unlike those at Fort a la Corne which are buried by thick layers of sedimentary rocks. GEFA is within 20 km of all-weather road access and with good infrastructure nearby in the mining centres of La Ronge, Saskatchewan and Flin Flon, Manitoba.
Alto's CEO, Rick Mazur stated, "The identification of at least three probable KIM dispersion trains on GEFA within 20 km of a near surface diamond bearing kimberlite on the North Arrow Pikoo property is a strong indication that an emerging diamond district is unfolding in the northern Sask Craton. Alto looks forward to our team integrating these results with our recently completed high-resolution airborne magnetic survey to identify high-priority kimberlite targets for drilling."
Two of Alto's probable dispersion trains are newly identified on the west half of GEFA, based on the recently received microprobe-confirmed results from the final 72 till samples of the September 2014 sampling program. KIMs recovered from these dispersion trains include Cr-pyrope garnets, Mg-ilmenites and chromites. The third train was previously announced on the eastern half of GEFA and features an eclogite garnet comparable to most eclogite inclusions in diamond (see Alto news release dated January 22, 2015). This previously announced dispersion train also includes a chromite similar to chromite inclusions in diamond, Cr-pyrope garnet, Mg-ilmenites (picroilmenites) and a second orange garnet comparable to Cr-poor megacrysts (a distinctive component of some kimberlites).
Additional KIM samples worthy of follow-up are located in the southwest corner of GEFA, including sample T266 which contains 28 Cr-rich chromites (between 55.0% and 63.42% Cr2O3) as well as two Mg-ilmenites. Adjacent sample T267 yielded 32 Cr-rich chromites with between 55.0% and 60.90% Cr2O3.
Alto's kimberlite and diamond consultant Dr. Harrison Cookenboo, P. Geo, has reviewed field procedures, technical data, and conclusions described in this news release. He is a qualified person under the provisions of National Instrument 43-101 and approves of technical data and conclusions in this news release.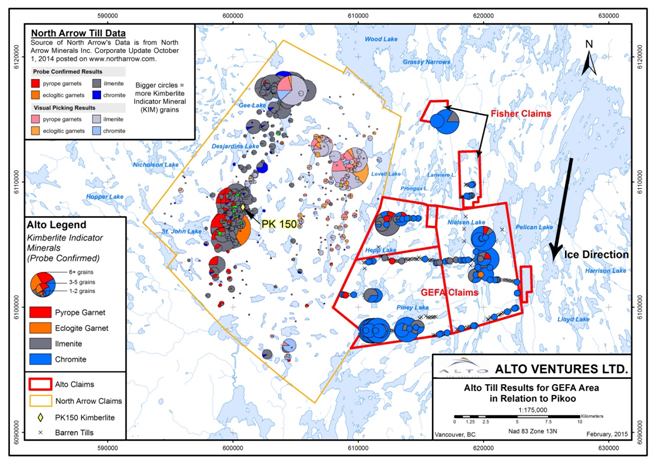 Figure 1. Alto's claims are outlined in red. North Arrow Minerals claims are outlined in yellow.
Alto is earning a 60% interest in the GEFA claims by making staged payments to the vendors totaling $60,000 over two years and completing $750,000 in exploration work on the property over 30 months (see Alto Ventures news release dated January 27, 2014). To date Alto has paid $25,000 in cash and spent approximately $400,000 on exploration. Alto is earning a 100% interest in the Fisher claims by issuing to the vendor 25,000 shares of Alto and making cash payments totaling $18,000 over two years (see Alto Ventures news release dated January 22, 2014). Alto has paid $8,000 in cash to date.
Quality Assurance/Quality Control
Alto's field crews collected a total of 325 till samples during the 2014 sampling program, using a float plane to access remote areas. Each sample comprised 10 kgs (field weight) of till that passed through a 6 mm screen. Till samples were shipped to the Saskatchewan Research Council (SRC) Geoanalytical Laboratories in Saskatoon for processing. SRC is an experienced laboratory in KIM samples operating in accordance with ISO/IEC 17025:2005. Processing at SRC consists of creating a heavy mineral concentrate, hand-picking the concentrate for potential kimberlite indicator minerals and then electron microprobe analysis of picked grains. Details of SRC's KIM processing routine and quality control are available on the SRC Geoanalytical Laboratories website: (http://www.src.sk.ca/facilities/pages/geoanalytical-laboratories.aspx).

Picked grains are only counted as kimberlite indicator minerals (KIMs) or diamond indicator minerals (DIMs) by Alto after review of the electron microprobe data using industry standard chemical criteria.
About Alto Ventures Ltd
Alto Ventures Ltd. is an exploration and development company with a portfolio of highly prospective Canadian diamond, gold and base metals properties. Alto's diamond land holdings total approximately 89,536 hectares in central eastern Saskatchewan near the recent discovery of diamonds on the Pikoo Project. The Company is active in the Abitibi greenstone belt in Quebec on the Destiny gold property and is exploring in the Beardmore-Geraldton gold belt in Ontario. In Manitoba, the Company is focused on the gold and base metals potential of the highly prospective but relatively under-explored Oxford Lake property.
For more details regarding the Company's projects, please visit our website at www.altoventures.com.
ON BEHALF OF THE BOARD,
Richard J. Mazur, P. Geo.,
CEO
Neither the TSX Venture Exchange nor its Regulation Services Provider (as that term is defined in the policies of the TSX Venture Exchange) accepts responsibility for the adequacy or accuracy of this release.
For further information contact:
Mike Koziol,
President and Director
ALTO VENTURES LTD.
Unit 7 -- 1351C Kelly Lake Rd
Sudbury, ON., P3E 5P5
Tel: 705-522-6372
Fax: 705-522-8856
Email: koziol@altoventures.com
Rick Mazur,
CEO and Director
ALTO VENTURES LTD.
Suite 615-800 W. Pender Street
Vancouver, BC, V6C 2V6
Tel: 604-689-2599
Fax: 604-689-3609
Email: mazur@altoventures.com