Vancouver, B.C., Nov 4, 2015. Alto Ventures Ltd. (ATV: TSX-V) is pleased to announce results from 38 glacial till samples collected in 2015 on its 100% owned Miner Lake gold property located in the Beardmore-Geraldton gold belt in Ontario (see Figure 1). Gold grains were recovered from 36 till samples and twenty one of these samples contain one or more grains described as" pristine". Pristine grains are delicate pieces of free gold that are generally interpreted to have been derived from sources close to the sampling sites. Five samples contain over 100 gold grains each including numerous pristine grains; one sample contains 578 gold grains of which 471 of the gold grains are described as pristine.
"We are very encouraged by these results from Miner Lake as Alto continues to develop its portfolio of gold properties while also advancing our diamond interests in the Pikoo diamond district in Saskatchewan " stated Rick Mazur, Alto's CEO. "The previous discoveries of persistent and widespread gold mineralization associated with hydrothermal breccia zones and the detection of the current gold grains-in-till anomalies in other areas of the Miner Lake property are strong indicators for the presence of a large gold-mineralizing system."
Previous work by Alto Ventures at Miner Lake identified many gold occurrences in hydrothermal breccia zones. In 2011 the The Company completed nine holes totalling 1,732m of diamond drilling to follow up targets generated previously. Eight of the nine holes intersected significant gold anomalies with one hole cutting a wide zone of 39.2 m averaging 0.6 g/t gold including 4.24 g/t gold over 1.5 m (see Alto news release dated October 18, 2011). Results from surface saw-cut channel sampling at the Whaleback Trench returned significant gold averaging 1.78 g/t gold and 0.11% copper across 19 m including one section of 3.36 g/t gold and 0.24% copper across 5.0 m and another section of 6.29 g/t gold and 0.08% copper across 2.0 m. These higher grade sections are contained within a wide sulphide-rich envelope that is almost 50 m wide (see Alto news release dated August 17, 2010). Channel sampling of other hydrothermal breccia zones include 6.79 g/t gold across 1.0 m and 4.14 g/t gold across 1.4 m. Gold mineralization on the Miner Lake property is associated with widespread breccia zones within intermediate intrusive rocks.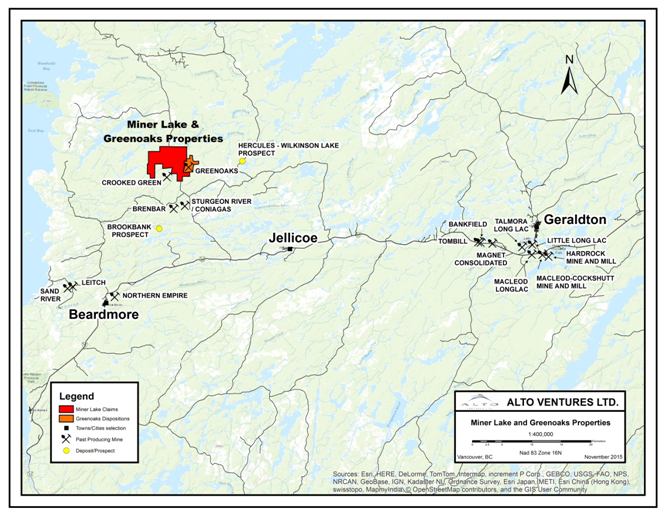 Figure 1 Location of the Miner Lake and Greenoaks properties in the Beardmore-Geraldton gold belt
Quality Assurance/Quality Control
Alto's field crews collected a total of 38 till samples during the 2015 sampling program using hand shovels. Nominal field weights for each sample were 15 kg of material after passing through a 6 mm screen. The till samples were processed by Overburden Drilling Management Ltd. ("ODM") at their laboratory in Ottawa, Ontario. ODM is the industry pioneer and global leader in heavy mineral geochemistry and indicator mineral exploration. Details of the sample processing protocol and quality control can be obtained from ODM and their website www.odm.ca.
Alto's President Mike Koziol, P. Geo. has supervised the field program and reviewed the contents in this news release. He is a qualified person under the provisions of National Instrument 43-101 and approves the technical data and conclusions in this news release.
About Alto Ventures Ltd
Alto Ventures Ltd. is an exploration and development company with a portfolio of highly prospective Canadian diamond, gold and base metals properties. Alto's diamond land holdings total approximately 89,536 hectares in central eastern Saskatchewan near the recent discovery of diamonds on the Pikoo Project. The Company is active in the Abitibi greenstone belt in Quebec on the Destiny gold property and is exploring in the Beardmore-Geraldton gold belt in Ontario. In Manitoba, the Company is focused on the gold and base metals potential of the highly prospective but relatively under-explored Oxford Lake property.
The Destiny gold property hosts several important gold zones including the DAC Deposit which has NI43-101 compliant Indicated Mineral Resources of approximately 10.8 million tonnes at an average grade of 1.05 g/t gold (364,000 ounces contained gold) plus Inferred Mineral Resources of approximately 8.3 million tonnes at an average grade of 0.92 g/t gold (247,000 contained ounces)*. The Darla Zone lies one kilometre east of the DAC Deposit along the same structure. Some of the results in the Darla Zone include 78.7 g/t gold over 1.0 m within an 8 m interval averaging 11.3 g/t, 22.7 g/t gold over 1.05 m, 1.05 g/t gold over 10 m, and 1.04 g/t gold over 11.0 m.
The Oxford Lake project includes the historical Rusty Deposit of 800,000 tonnes averaging 6 g/t gold** and the Blue Jay Zone. Drilling in 2012 on the Blue Jay intersected two zones of high-grade gold mineralization: Zone One averages 6.7 g/t gold over 2.7 m including 22.5 g/t gold over 0.5 m and Zone Two averages 5.7 g/t over 6.8 m gold including 11.7 g/t gold over 1.6 m and 16.5 g/t gold over 1.0 m.
For more details regarding the Company's projects, please visit our website at www.altoventures.com.
ON BEHALF OF THE BOARD,
Richard J. Mazur, P. Geo.,
CEO
* Todd McCracken, P.Geo, is a Qualified Person ("QP") for purposes of the NI 43-101 Report. He is responsible for preparing the Report and the Resource Estimate disclosed in the Report. Mr. McCracken, at time of filing of the Report on SEDAR was an employee of Wardrop a Tetra Tech Company, and independent from the Company as described in section 1.4 of NI 43-101. The Report was filed on SEDAR in March, 2011.
** The Historical Resource was estimated in 1990 and a Qualified Person (QP), as defined by NI43-101, has not done sufficient work to classify this historical estimate as current mineral resources. Alto is not treating the historical estimate as current mineral resources, as defined by NI43-101, and thus the historical estimate should not be relied upon.
Neither the TSX Venture Exchange nor its Regulation Services Provider (as that term is defined in the policies of the TSX Venture Exchange) accepts responsibility for the adequacy or accuracy of this release.
For further information contact:
Mike Koziol,
President and Director
ALTO VENTURES LTD.
Unit 7 - 1351C Kelly Lake Rd
Sudbury, ON., P3E 5P5
Tel: 705-522-6372
Fax: 705-522-8856
Email: koziol@altoventures.com
Rick Mazur,
CEO and Director
ALTO VENTURES LTD.
Suite 615-800 W. Pender Street
Vancouver, BC, V6C 2V6
Tel: 604-689-2599
Fax: 604-689-3609
Email: mazur@altoventures.com