Vancouver, B.C., January 17, 2018. Alto Ventures Ltd. (ATV: TSX-V) is pleased to announce that planning has started for the 2018 exploration program on its Miner Lake Gold Property in the Beardmore-Geraldton gold camp in Ontario. Surface exploration this spring will be followed up with a summer diamond drill program. Miner Lake is located approximately 45 km northeast of the Town of Beardmore, Ontario and 10 km northwest of Greenstone Gold Mines Brookbank Gold Deposit (a 50/50 Partnership between Centerra Gold Inc. and Premier Gold Mines Ltd.). Year-round road access to the property can be gained by Trans-Canada Highway 1 and then by Provincial Highway 801(see Figure 1).
Miner Lake, Ontario
Alto completed nine shallow drillholes on the property in 2011. Eight of the nine holes intersected significant gold anomalies with one hole cutting a wide zone of 39.2 m averaging 0.6 g/t gold including 4.24 g/t gold over 1.5 m (see Alto news release dated October 18, 2011). Assay results from surface saw cut channel samples include 6.79 g/t gold across 1.0 m; 4.14 g/t gold across 1.4 m; and 1.78 g/t gold and 0.11% copper across 19 m. This last interval contains two higher grade sections of 3.36 g/t gold and 0.24% copper across 5.0 m and another section of 6.29 g/t gold and 0.08% copper across 2.0 m.
Several granodiorite and diorite stocks intrude sequences of felsic to mafic fragmental volcanic rocks near the centre of the Miner Lake Property (see Figure 2). Regional shear zones, trending east and northeast traverse the property and strong biotite-silica alteration is associated with sections of the shear zones. In addition to shearing, numerous zones of hydrothermal breccia have been discovered within one of the granodiorite plugs and the areas of breccia that are chlorite altered and sulphide mineralized carry significant gold mineralization on surface.

Results from limited surface glacial till sampling programs completed in 2015 and 2016 have delineated gold-in till dispersion trains down-ice from the known gold zones and have also located a cluster of till anomalies near the southwest end of the property (see Figure 2). One sample from this cluster contains 578 gold grains of which 471 of the gold grains are described as pristine (see Alto news release dated November 4, 2015). The high proportion of pristine gold grains may indicate that this sample is close to a yet undiscovered gold bearing bedrock source.
Destiny, Quebec
Alto is currently compiling all drill and geophysical/geochemical data for the project for review by potential joint venture partners. Drilling by Alto has extended gold mineralization for three kilometers discovering two other gold zones east of the DAC Deposit. The DAC Deposit has Indicated Mineral Resources of 10.8 million tonnes at an average grade of 1.05 g/t gold and an Inferred Mineral Resources total approximately 8.3 million tonnes at an average grade of 0.92 g/t gold using a 0.5 g/t gold cut-off grade. The estimated contained ounces in the Indicated category are 364,000 plus 247,000 ounces in the Inferred classification*. The gold mineralization is open to depth and along strike.

Oxford Lake, Manitoba
During the summer of 2017, with a constructive relationship and employment of personnel and services from the Bunibonibee Cree Nation (BCN), Alto completed a program of bedrock sampling, prospecting and geological mapping. In preparation for a winter program of gridding, ground geophysics and diamond drilling, Alto planned to continue to employ a number of BCN members and companies for a range of services including line cutting, ground geophysics, ice road maintenance, camp person, cook and fuel from the community.
However, in light of the recent changes in position of the Bunibonibee Cree Nation toward the proposed exploration, and related challenges the company faced in obtaining clear and timely information regarding the Government of Manitoba's position on Aboriginal consultation and permitting matters, Alto has decided to not proceed with the winter drill program. Alto remains open to working with the Bunibonibee Cree Nation to resolve the issues outstanding to continue to advance the Oxford Lake Project in the future
The Oxford Lake property is being explored for iron formation hosted gold mineralization. The Rusty Gold Deposit is hosted by iron formation and has a Historical Resource of 800,000 tonnes averaging 6 g/t gold and containing approximately 154,000 ounces of gold**. In 2012 the Company drilled hole RUS12-03 in the Blue Jay area, another iron-formation gold target approximately two kilometres on trend and to the east of the Rusty Deposit. RUS12-03 intersected two zones of high-grade gold mineralization: Zone One - 2.7 m averaging 6.7 g/t gold including 22.5 g/t gold over 0.5 m and Zone Two - 6.8 m averaging 5.7 g/t gold including 11.7 g/t gold over 1.6 m and 16.5 g/t gold over 1.0 m. Gold mineralization at both the Rusty Gold Deposit and the Blue Jay Zone is open along strike and to depth.
Joint-Venture Partner Operated Projects and Royalty Interests
Empress, Ontario: Sanatana Resources Inc. (STA) is working towards earning 100% interest in Alto's Empress Property by making staged cash payments to Alto of $125,000 in aggregate and issuing a total 3,000,000 million shares of STA before June 30, 2018. STA has also committed to spend $150,000 on the property prior to June 30, 2019. Upon STA earning its interest, Alto will retain a 1% Net Smelter Returns (NSR) royalty on all production from existing claims and 0.33% NSR on claims which lie within a predetermined area of interest acquired during the option period.
Windfall East, Quebec: Alto retains a 1% NSR royalty on the Windfall East Property owned by Beaufield Resources Inc. (BFD). The Windfall East Property lies adjacent to the Windfall Property currently under development by Osisko Mining Inc. BFD, in its December 8, 2017 press release discussed drilling plans to test for possible extensions at depth of Osisko's high grade Lynx Zone onto the Windfall East Property. The drilling is anticipated to be completed during the 2018 winter season.
Coldstream Ontario: Alto retains NSR royalties ranging from 0.5% to 1.5% on certain claims that comprised Alto's former Coldstream Project and are currently owned by Wesdome Gold Mines Ltd. Alto's former claims host the Osmani Deposit which is reported on the Wesdome company website to contain 96,000 ounces of gold in the Indicated category and 763,276 ounces of gold in the Inferred category.
*The Resource Estimates were calculated consistent with guidelines set out in National Instrument 43-101 and filed on Sedar on March 7, 2011. Mineral Resources are not Mineral Reserves and by definition do not demonstrate economic viability.
**The Historical Resource was estimated in 1990 and a Qualified Person (QP), as defined by NI43-101, has not done sufficient work to classify this historical estimate as current mineral resources. Alto is not treating the historical estimate as current mineral resources, as defined by NI43-101, and thus the historical estimate should not be relied upon.
Alto's President, Mike Koziol, P. Geo. is a qualified person under the provisions of National Instrument 43-101 and approves the technical data and conclusions in this news release.
About Alto Ventures Ltd
Alto Ventures Ltd. is an exploration and development company with a portfolio of highly prospective Canadian gold properties. The Company is active in the Abitibi greenstone belt in Quebec on the Destiny gold property and is exploring in the Beardmore-Geraldton gold belt in Ontario. In Manitoba, the Company is focused on the gold and base metals potential of the highly prospective but relatively under-explored Oxford Lake property. For more details regarding the Company's projects, please visit our website at www.altoventures.com.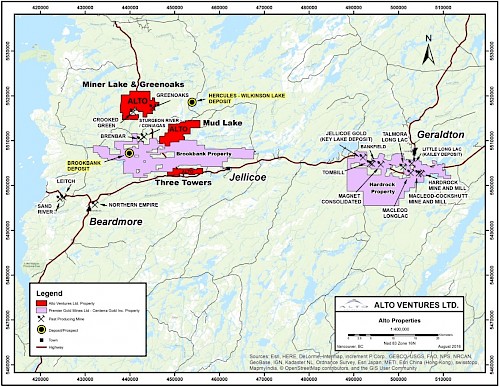 Figure 1 Location of Alto Ventures gold properties in the Beardmore-Geraldton gold belt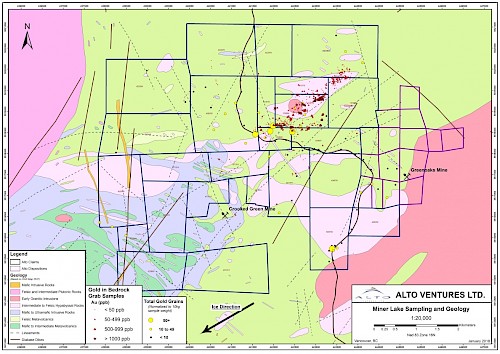 Figure 2 Miner Lake Sampling and Geology map showing gold in bedrock and glacial till anomalies
ON BEHALF OF THE BOARD,
Richard J. Mazur, P. Geo.,
CEO
Neither the TSX Venture Exchange nor its Regulation Services Provider (as that term is defined in the policies of the TSX Venture Exchange) accepts responsibility for the adequacy or accuracy of this release.
For further information contact:
Mike Koziol,
President and Director
ALTO VENTURES LTD.
Unit 7 -- 1351C Kelly Lake Rd
Sudbury, ON., P3E 5P5
Tel: 705-522-6372
Email: koziol@altoventures.com

Rick Mazur,
CEO and Director
ALTO VENTURES LTD.
Suite 615-800 W. Pender Street
Vancouver, BC, V6C 2V6
Tel: 604-689-2599
Email: mazur@altoventures.com