Vancouver, B.C., October 18, 2017. Alto Ventures Ltd. (ATV: TSX-V) is pleased to announce highlights of results from the 2017 summer program in the Cat Eye Bay area on the Oxford Lake project in Manitoba (Figure 1). The Cat Eye Bay area is one of three separate locations worked on in 2017 and lies near the southeast end of this large property, approximately 15 km southwest from the Rusty banded iron formation ("BIF") associated gold deposit. Grab samples of the mineralized rocks from the trenches returned poly-metallic mineralization including 37.8 g/t Au, 71.9 g/t Ag, 2.5% Cu and 2.5% Zn. Results of grab samples from other trenches are illustrated in Figure 2. Historical drilling in the area of the trenches returned up to 9.3 g/t Au, 89.5 g/t Ag and 4.42% Zn over 0.52 metres core length.
2017 Exploration Highlights in the Cat Eye Bay Area
Verification rock grab samples from the Cat Eye Bay showings returned several high grade gold-silver-copper-zinc assays from a series of historical trenches that trace mineralization for over 300 m along strike. Gold-silver-base metals mineralization is hosted by narrow (10 to 20 cm) bands of silicious rock containing semi-massive pyrite with accessory chalcopyrite, sphalerite and locally galena. The mineralized bands are encapsulated within sheared, banded, fissile mica-quartzite (re-crystalized chert?) alternating with sericite schist layers and quartz rich layers containing significant amphibole.
Two new occurrences were discovered away from the Cat Eye Bay trenches. One occurrence, which is located approximately 400 m northwest and possibly along strike from Cat Eye Bay trenches, returned grab sample values up to 12.5 g/t Au and 0.9 g/t Ag. Gold and silver here are hosted by centimeter scale quartz veinlets within magnetite-amphibolite rock interpreted to be highly metamorphosed iron formation. The second occurrence is located approximately 3 km northeast of Cat Eye Bay and gold values up to 5.8 g/t Au, 7 g/t Ag and 1.1% Cu were obtained from a quartz-chalcopyrite veinlets hosted by a 20 cm shear zone within mafic volcanics.
The abundance of these high grade showings and widespread distribution confirm the exploration potential of the Oxford Lake property peripheral to the Alto's main target, the Rusty-Blue Jay BIF trend. Additional work is required in the Cat Eye Bay area as well as Hyers Island to better understand the controls on mineralization before drilling is carried out.
District Scale Exploration Potential of the Oxford Lake Property
The Oxford Lake property covers 36,000 ha of geology prospective for hosting BIF associated gold deposits, syn-orogenic gold deposits and gold associated with sulphide copper-zinc-silver mineralization. The objectives of the 2017 rock grab sampling, geological mapping, and prospecting program were: 1) to verify grades at historical showings; 2) to follow up previously underexplored targets along a 30 km trend of magnetic highs that are associated with BIF units which host the historical Rusty Gold Deposit and the Blue Jay gold zone, and 3) to identify new targets. In total, 803 rock grab samples were collected on the entire Oxford Lake property. The results of the 2017 work, once fully compiled and interpreted will be incorporated into the data base in preparation for diamond drilling that is being planned for 2018.
The Rusty and Blue Jay Banded Iron Formation Deposits
Results from the 2017 work along the 30 km trend of aeromagnetic highs hosting the Rusty Gold Deposit are currently being compiled and will be released in November. The Rusty Gold Deposit discovered by Noranda in 1990 is reported to host a Historical Resource* of 800,000 tonnes averaging 6 g/t Au and containing approximately 154,000 ounces of gold associated with BIF. In 2012, Alto drilled hole RUS12-03 in the Blue Jay area approximately two kilometres on trend and east of the Rusty Deposit. RUS12-03 intersected two zones of high-grade gold mineralization associated with the same extensive BIF unit as the Rusty Deposit. Results from one zone are 2.7 metres averaging 6.7 g/t gold including 22.5 g/t gold over 0.5 metres and from the second zone - 6.8 metres averaging 5.7 g/t gold including 11.7 g/t gold over 1.6 metres and 16.5 g/t gold over 1 metre.
Of prime significance, a single diamond drill hole completed in 1992 along this 30 km aeromagnetic trend intersected 0.98 g/t over 3.1 m within a 10.3 metre section of BIF in the Carrot River area located approximately 10 km west of the Rusty Gold Deposit. Minimal past exploration was completed in the overburden covered Carrot River area along this trend of tremendous potential for BIF gold mineralization.
* The historical resources were estimated prior to NI43-101 standards being enacted and a Qualified Person (QP), as defined by NI43-101, has not done sufficient work to classify these historical estimates as current mineral resources. Alto is not treating the historical estimate as current mineral resources, as defined by NI43-101, and thus the historical estimates should not be relied upon.
Quality Control
Rock grab samples were shipped to the ALS Canada laboratory in Thunder Bay, where the rocks were crushed and pulverized to prepare sample pulps up to 250 grams to 85% passing 75 microns. The pulps were then shipped by ALS Canada to their Vancouver laboratory for gold and multi-element analyses. The gold assaying method uses a standard Fire Assay with AA finish technique on a 30 gram sub-sample taken from a 250 gram split from the submitted sample. Check assays were performed on samples with gold values greater than 10 g/t Au using Fire Assay and Gravimetric finish. Commercially prepared standards were inserted Alto with each batch of samples shipped to ensure precision of the results.
The samples were also tested for 35 other elements using ICP Aqua-Regia digestion (ALS-ME-ICP41 35 element Aqua Regia). Ore grade analyses were performed on certain samples where base metal values exceeded the maximum detection ranges for the ICP-Aqua Regia methods.
Alto's President, Mike Koziol, P. Geo. is a qualified person under the provisions of National Instrument 43-101 and approves the technical data and conclusions in this news release.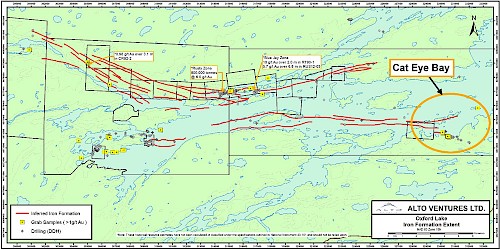 Figure 1 Oxford Lake Property 2017 Iron Formation Extent in relation to Cat Eye Bay.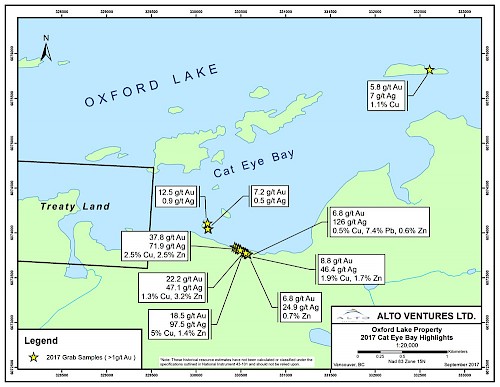 Figure 2 Oxford Lake Property 2017 Cat Eye Bay Highlights showing rock grab samples containing >1 g/t Au.
About Alto Ventures Ltd
Alto Ventures Ltd. is an exploration and development company with a portfolio of highly prospective Canadian gold properties. The Company is active in the Abitibi greenstone belt in Quebec on the Destiny gold property and is exploring in the Beardmore-Geraldton gold belt in Ontario. In Manitoba, the Company is focused on the gold and base metals potential of the highly prospective but relatively under-explored Oxford Lake property. For more details regarding the Company's projects, please visit our website at www.altoventures.com.
ON BEHALF OF THE BOARD,
Richard J. Mazur, P. Geo.,
CEO
Neither the TSX Venture Exchange nor its Regulation Services Provider (as that term is defined in the policies of the TSX Venture Exchange) accepts responsibility for the adequacy or accuracy of this release.
For further information contact:
Mike Koziol, President and Director
ALTO VENTURES LTD.
Unit 7 - 1351C Kelly Lake Rd
Sudbury, ON., P3E 5P5
Tel: 705-522-6372
Email: koziol@altoventures.com
Rick Mazur, CEO and Director
ALTO VENTURES LTD.
Suite 615-800 W. Pender Street
Vancouver, BC, V6C 2V6
Tel: 604-689-2599
Email: mazur@altoventures.com