Vancouver, B.C., March 2, 2017. Alto Ventures Ltd. (ATV: TSX-V) is pleased to announce the appointment of Dr. Laurence (Laurie) Curtis to its Advisory Board and a review of plans for the 2017 exploration season on its gold properties in Manitoba, Quebec and Ontario.
Laurie brings over 40 years of experience in the mining industry and capital markets, with a proven track record in corporate development, mine development and project financing. During his distinguished career as an exploration geologist, Laurie was involved with a number of worldwide discoveries including the initial discovery and staking of the Back River gold belt, which now hosts the 5 million ounce banded iron formation ("BIF") gold deposit held by Sabina Gold & Silver Corp. He is the founder of Intrepid Minerals, and was a key member of the senior management and technical teams overseeing all aspects from discovery through operations. Under his guidance as CEO and COO, Intrepid transitioned through merger and acquisition to become a gold producer and developer, ultimately attaining a market capitalization in excess of $1.2 billion. He was actively involved as a director of several junior developers with producing mines on several continents including, Wheaton River Minerals, High River Gold Mines, Breakwater Resources and Buryatzolo. Laurie has also held several positions in the financial sector including, Research and Mining Analyst for Clarus Securities and Vice President and Senior Analyst Global Resources for Dundee Capital Markets. Most recently he has become Technical Advisor, Capital Markets for a number of funds, including the Tribeca Global Resources Fund. Laurie is currently Chairman of Eastmain Resources and a Director of Toachi Mining Inc. and Excellon Resources Inc.
Richard Mazur, CEO, Alto Ventures Ltd. commented, "Laurie's expertise will aid Alto in the focus and advancement of its Canadian gold project portfolio. Alto holds strategic gold property interests in active areas of exploration in the Canadian Shield and is reactivating exploration of its Oxford Lake BIF gold project in Manitoba. Laurie's knowledge of this style of deposit will greatly enhance our exploration effort."
Corporate Update
Alto raised $800,000 in the last three months to advance its exploration assets through investment by strategic partners Gravitas Financial Services and Accilent Capital Management. The Company will focus the remaining funds on its gold exploration project portfolio including Destiny in Quebec, properties in the Beardmore- Geraldton gold district, Ontario and Oxford Lake in Manitoba. In addition, recent divestments of the Coldstream and Empress projects in Ontario to active exploration and development companies leave Alto with residual royalty and share interests that hold significant value. Recent activity in Osisko's Windfall Lake area, Quebec have elevated the importance of Alto's Alcudia property adjacent to the Windfall deposit.
Alto is taking steps to build investor awareness and shareholder value of the Company's gold exploration activities by conducting institutional and retail presentations, increased media relations, gaining exposure through social media and attendance at mining and investment conferences. Alto will be exhibiting in Booth #2622 at the PDAC International Convention in Toronto, Canada on Sunday, March 5 and Monday, March 6, 2017.
Exploration 2017
Oxford Lake, Manitoba
The Company is preparing for a summer program of geological mapping, prospecting and sampling on its vast, 26,470 ha Oxford Lake property in northern Manitoba. The property includes the historical Rusty Gold Deposit a banded iron formation ("BIF") hosted gold deposit as well as numerous other gold and copper-zinc occurrences. Historical Resources of 800,000 tonnes at an average grade of 6 g/t gold and containing approximately 154,000 ounces of gold have been reported for the Rusty Deposit. It is open along strike and to depth. The Historical Resources were estimated in 1990 and a Qualified Person (QP), as defined by NI43-101, has not done sufficient work to classify this historical estimate as current mineral resources. Alto is not treating the historical estimate as current mineral resources, as defined by NI43-101, and thus the historical estimate should not be relied upon.
In 2012 Alto drilled hole RUS12-03 to test the Blue Jay Zone and intersected multiple zones of BIF and gold mineralization including two with high grades, one zone averaged 6.7 g/t gold over 2.7m and the other averaged 5.7 g/t gold across 6.8m, including 11.7 g/t Au/1.6m and 16.5 g/t Au/1.0m. This hole was drilled 2.2 km east along strike from the Rusty Deposit. Both the Rusty Deposit and the Blue Jay Zone lie along a 30 km trend of aeromagnetic "Highs" that are interpreted to be related to BIF (Figure 1). The aeromagnetic signatures to the northwest of the Rusty Deposit are intriguing as they appear wider and possibly caused by thickening of individual BIF units or presence of multiple BIF units. Historical drilling in this area was limited to only two holes and significantly, one of the holes intersected 0.98 g/t Au/3.1m. The objectives of the 2017 summer program will be to map, prospect and sample the 30 km magnetic trend and generate drill targets for 2018.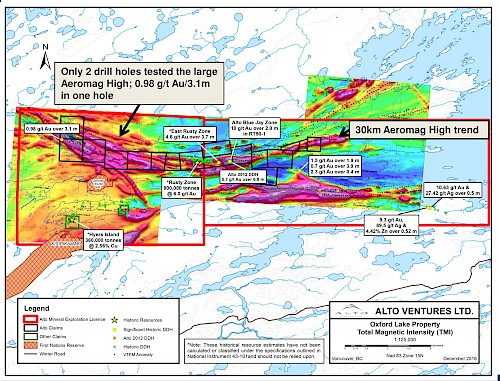 Figure 1 Oxford Lake Property gold zones plotted on Total Magnetic Intensity Aeromag survey data; note the widening of the aeromag signature in the northwest corner of the property possibly due to increased widths of BIF or multiple BIF units
Destiny Project, Quebec
The Company has commissioned the preparation of a new Resource Estimate Report to consider the underground potential of the high grade gold zones within the DAC Deposit on the Destiny Project. The DAC Deposit is made up of high grade gold-bearing quartz veins occurring within five parallel altered shear zones. In addition to gold in the quartz veins, the altered zones also carry gold at lower grades than the quartz veins but are significantly wider and contribute to the global gold resources of the DAC Deposit. In 2011, a Resource Estimate Report was prepared to estimate the gold content and grades of the five parallel altered shear zones.
The DAC Deposit in the five zones hosts Indicated Mineral Resources of 10.8 million tonnes at an average grade of 1.05 g/t gold using 0.5 g/t gold cut-off grade. In addition, at the same gold cut-off grade, the Inferred Mineral Resources total approximately 8.3 million tonnes at an average grade of 0.92 g/t gold. The estimated contained ounces in the Indicated category are 364,000 plus 247,000 ounces in the Inferred classification. The gold mineralization is open to depth and along strike. The Resource Estimates Report was prepared by Todd McCracken, P.Geo, who is a Qualified Person ("QP") for purposes of NI43-101 Report. He is responsible for preparing the Report and the Resource Estimate disclosed in the Report. Mr. McCracken was an employee of Tetra Tech (formerly Wardrop) at the time he prepared the report and independent from the Company as described in section 1.4 of NI 43-101.
Alcudia (Windfall Lake), Quebec
Alto's Alcudia Property is strategically located within two kilometers of the Main Zone of the Windfall Lake Gold Deposit in the Urban-Barry greenstone belt. Osisko Mining Inc. is currently conducting a 400,000 m diamond drilling program with very positive results being reported regularly by Osisko. Alto is monitoring Osisko's progress and evaluating how their results impact the Alcudia Property as some holes are being drilled near the Property.
Beardmore-Geraldton Area, Ontario
The Company plans to continue work this summer with mapping and sampling programs on its Miner Lake Property to advance the property to drilling as the economic conditions improve. In 2015, the Company completed a glacial till sampling program. Gold grains were recovered from 36 till samples and twenty one of these samples contain one or more grains described as" pristine". Pristine grains are delicate pieces of free gold that are generally interpreted to have been derived from sources close to the sampling sites. Five samples contain over 100 gold grains each including numerous pristine grains; one sample contains 578 gold grains of which 471 of the gold grains are described as pristine. These high pristine grain samples will be followed up this summer.
The previous surface exploration work by Alto Ventures identified widespread hydrothermal breccia zones that contain anomalous gold mineralization within an intermediate intrusive body. In 2011, nine holes were drilled to test parts of some breccia zones and anomalous amounts of gold were intersected in eight of the holes Hole MIN11-06 intersected a 39.2 m wide zone averaging 0.6 g/t Au, including 1.5m averaging 4.24 g/t. The mineralization starts at 9.8 m downhole and is open on strike and to depth.
Empress, Ontario
In February, 2017 Sanatana Resources Inc. entered into an Option Agreement to acquire 100% interest in Alto's Empress Property. Under the terms of the Agreement, Sanatana will make cash payments to Alto totaling $125,000 and issue 3,000,000 Sanatana shares over a 12 month period and complete $150,000 in exploration expenditures on the property over a 24 month period. Sanatana will also pay Alto a 1% NSR royalty on the claims comprising the Empress Project and a 0.33% NSR royalty on any claims staked during the option period that fall within an "area of interest" provided for in the Option Agreement. Sanatana is planning an exploration program for this summer on their newly acquired Empress and adjoining Jackfish Lake properties.
This news release has been reviewed and approved for technical content by Mike Koziol, P. Geo, a qualified person under the provisions of National Instrument 43-101.
About Alto Ventures Ltd
Alto Ventures Ltd. is an exploration and development company with a portfolio of highly prospective Canadian gold and diamond properties. The Company is active in the Abitibi greenstone belt in Quebec on the Destiny gold property and is exploring in the Beardmore-Geraldton gold belt in Ontario. In Manitoba, the Company is focused on the gold and base metals potential of the highly prospective but relatively under-explored Oxford Lake property. The Company's diamond properties are located in northern Saskatchewan near the recent discovery of diamonds on the Pikoo Project.
For more details regarding the Company's projects, please visit our website at www.altoventures.com.
ON BEHALF OF THE BOARD,
Richard J. Mazur, P. Geo.,
CEO
Neither the TSX Venture Exchange nor its Regulation Services Provider (as that term is defined in the policies of the TSX Venture Exchange) accepts responsibility for the adequacy or accuracy of this release.
For further information contact:
Mike Koziol,
President and Director
ALTO VENTURES LTD.
Unit 7 - 1351C Kelly Lake Rd
Sudbury, ON., P3E 5P5
Tel: 705-522-6372
Fax: 705-522-8856
Email: koziol@altoventures.com
Rick Mazur,
CEO and Director
ALTO VENTURES LTD.
Suite 615-800 W. Pender Street
Vancouver, BC, V6C 2V6
Tel: 604-630-1585
Fax: 604-689-3609
Email: mazur@altoventures.com